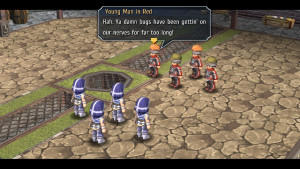 The Legend of Heroes ist keine J-RPG-Serie, die große Bekanntschaft genießt. Dennoch wurden in den letzten Jahren die jeweiligen Teile ebenfalls außerhalb des Landes der aufgehenden Sonne herausgebracht, wenn auch teilweise mit enormer Verspätung. Mit Trails of Cold Steel IV endete die letzte Subreihe. Und anstatt Trails into Reverie oder Kuro No Kiseki hier in den Handel zu bringen, die beiden Games, die in Japan nach TOCSIV erschienen, hat Nihon Falcom eine andere Entscheidung gefällt. Man blickte quasi auf die Vergangenheit der Serie, erblickte die Crossbell-Spiele, die aus Trails from Zero und Trails to Azure bestanden, und fasste den Entschluss, jetzt den ersten Teil der Story überarbeitet herauszubringen.
Das mutet wie eine merkwürdige Entscheidung an. Denn Trails from Zero kam das erste Mal 2010 für die PSP nur in Japan heraus. Dieser Ursprung ist dem Titel anzumerken, denn auch wenn in Sachen Optik einiges gemacht wurde, erinnern vor allem die Charaktermodelle und die Menüs noch an den Handheldursprung.
Und trotzdem wirst du dich nach kurzer Zeit an die Grafik gewöhnen und das Spiel so schnell nicht mehr aus der Hand legen, was vor allem an der gelungenen Story liegt, ihren Protagonisten, sowie dem Gameplay an sich.
Wer ein Fan der The Legend of Heroes-Reihe ist, der wird in Trails from Zero wiederholt Anspielungen auf die anderen Titel finden. Wem diese allerdings entgehen, für den ist dies kein Beinbruch, da diese Anspielungen jetzt nicht relevant für das Verständnis der Story sind. Es sind nette Anreicherungen, nicht mehr, aber auch nicht weniger.
Du steuerst eine 4er-Gruppe an Helden. Hauptfigur ist Lloyd Bennings, der einen Abschluss an der Polizeiakademie hat und zurück in seiner Heimat der neu gegründeten Spezial Einheit Special Supports Section beitritt. Diese hat die Aufgabe, das Vertrauen der Bürger in die Polizei wiederherzustellen, was im Prinzip im Spiel nur Ausrede dafür ist, dass du diverse simple Nebenmissionen absolvieren musst, die aus viel Hin- und Herlaufen bestehen.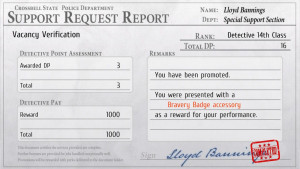 Unterstützt wird Lloyd von Randy Orlando, einem ehemaligen Soldaten, der das Leben locker nimmt. Von Elie McDowell, der Erbin einer einflussreichen politischen Dynastie, die allerdings auf eigenen Beinen stehen möchte. Sowie Tio Plato, einem zurückhaltenden jungen Mädchen, dass sich mit Elektronik bestens auskennt. Gemeinsam erlebt das Quartett vielfältige Abenteuer, in derem Verlauf es einer großen Verschwörung auf die Spur kommt.
Das Besondere an Trails from Zero ist, wie die Story erzählt wird. Das Game lässt sich wirklich Zeit, um einem die Stadt Crossbell näher zu bringen, was für Organisationen es in ihr gibt und wie die alle im Verhältnis zueinanderstehen. Gleichzeitig wird allerdings auch die diversen politischen Intrigen geschildert und dass eben nicht alle mit der Existenz und Idee hinter der SSS einverstanden sind.
Dabei können die Mainquests vor allem dadurch überzeugen, dass sie teilweise wirklich wie Polizeiarbeit wirken. So musst du im Prolog des Games herausfinden, wer ein Interesse daran hat, die beiden größten Gangs der Stadt gegeneinander aufzuhetzen. Das beinhaltet auch viel Hin- und Her- Gelaufe, um so beispielsweise mit Zeugen zu reden. Dabei hält das Game immer wieder inne, und lässt einen selber Schlussfolgerungen ziehen, wobei es einem mehr oder wenige subtile Hinweise gibt, solltest du falsch liegen. Du darfst hier jetzt kein Ace Attorney-artiges Gameplay erwarten, doch innerhalb des Spiels an sich macht diese Spielweise durchaus Spaß.
Vor allem, weil es eine nette Abwechslung von der Norm ist, die eben auch beinhaltet, dass du quasi Dungeons durchläufst und dich mit diversen Gegnern rundenbasierend auseinandersetzt. Für jeden gewonnen Kampf gibt es dann ebenfalls Erfahrungspunkte, so dass du regelmäßig im Level aufsteigst.
Das rundenbasierende Kampfsystem ist ganz nett. Jede Aktion hat Konsequenzen. So brauchen beispielsweise magische Attacken eine gewisse Zeit, bis sie aufgeladen sind und so lange sind die Gegner am Zug. Ebenso lassen sich mit manchen Angriffen Feinde zurückstoßen. Und mit jeder Aktion oder Treffer, den du kassierst, lädt sich eine Leiste auf, mit der du am Ende eine Critical Art ausführen kannst, einen Superspezialangriff.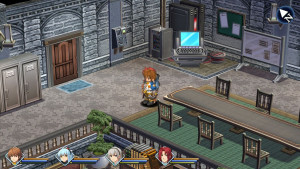 Es ist außerdem herausfordernd. Vor allem stärkere Gegner erfordern zu Beginn des Games bestimmte Entscheidungen, um die Auseinandersetzung auch zu bestehen. Triffst du die Falsche, kann es leicht passieren, dass mit dir am Ende der Boden aufgewischt wird.
The Legend of Heroes: Trails from Zero macht Spaß, hat aber auch, neben der teilweise altbackenen Grafik, noch das Problem, dass es nicht gerade einfach zu handeln ist. Gemeint ist, dass zum Beispiel eine Übersicht über aktuelle Missionen und deren Verlauf du erst mühsam übers Pausenmenü und dem Item Detective Handbook aufrufen kannst. Auch fällt es einem zu Beginn leicht, sich in Crossbell zu verlaufen. Die verschiedenen Stadtteile sind zwar unterschiedlich designt. Doch ehe du weißt, wo was ist, dürfte einiges an Zeit vergehen, denn es fehlt leider an einer Kartenansicht der Stadt.
Doch davon abgesehen ist das Game großartig. Es macht jede Menge Spaß und wenn du erstmal angefangen hast, wirst du es nur schwer aus den Händen legen können.
The Legend of Heroes Trails from Zero neXGam 99
The Legend of Heroes Trails from Zero neXGam 98
The Legend of Heroes Trails from Zero neXGam 97
The Legend of Heroes Trails from Zero neXGam 96
The Legend of Heroes Trails from Zero neXGam 95
The Legend of Heroes Trails from Zero neXGam 94
The Legend of Heroes Trails from Zero neXGam 93
The Legend of Heroes Trails from Zero neXGam 92
The Legend of Heroes Trails from Zero neXGam 91
The Legend of Heroes Trails from Zero neXGam 90
The Legend of Heroes Trails from Zero neXGam 9
The Legend of Heroes Trails from Zero neXGam 89
The Legend of Heroes Trails from Zero neXGam 88
The Legend of Heroes Trails from Zero neXGam 87
The Legend of Heroes Trails from Zero neXGam 86
The Legend of Heroes Trails from Zero neXGam 85
The Legend of Heroes Trails from Zero neXGam 84
The Legend of Heroes Trails from Zero neXGam 83
The Legend of Heroes Trails from Zero neXGam 82
The Legend of Heroes Trails from Zero neXGam 81
The Legend of Heroes Trails from Zero neXGam 80
The Legend of Heroes Trails from Zero neXGam 8
The Legend of Heroes Trails from Zero neXGam 79
The Legend of Heroes Trails from Zero neXGam 78
The Legend of Heroes Trails from Zero neXGam 77
The Legend of Heroes Trails from Zero neXGam 76
The Legend of Heroes Trails from Zero neXGam 75
The Legend of Heroes Trails from Zero neXGam 74
The Legend of Heroes Trails from Zero neXGam 73
The Legend of Heroes Trails from Zero neXGam 72
The Legend of Heroes Trails from Zero neXGam 71
The Legend of Heroes Trails from Zero neXGam 70
The Legend of Heroes Trails from Zero neXGam 7
The Legend of Heroes Trails from Zero neXGam 69
The Legend of Heroes Trails from Zero neXGam 68
The Legend of Heroes Trails from Zero neXGam 67
The Legend of Heroes Trails from Zero neXGam 66
The Legend of Heroes Trails from Zero neXGam 65
The Legend of Heroes Trails from Zero neXGam 64
The Legend of Heroes Trails from Zero neXGam 63
The Legend of Heroes Trails from Zero neXGam 62
The Legend of Heroes Trails from Zero neXGam 61
The Legend of Heroes Trails from Zero neXGam 60
The Legend of Heroes Trails from Zero neXGam 6
The Legend of Heroes Trails from Zero neXGam 59
The Legend of Heroes Trails from Zero neXGam 58
The Legend of Heroes Trails from Zero neXGam 57
The Legend of Heroes Trails from Zero neXGam 56
The Legend of Heroes Trails from Zero neXGam 55
The Legend of Heroes Trails from Zero neXGam 54
The Legend of Heroes Trails from Zero neXGam 53
The Legend of Heroes Trails from Zero neXGam 52
The Legend of Heroes Trails from Zero neXGam 51
The Legend of Heroes Trails from Zero neXGam 50
The Legend of Heroes Trails from Zero neXGam 5
The Legend of Heroes Trails from Zero neXGam 49
The Legend of Heroes Trails from Zero neXGam 48
The Legend of Heroes Trails from Zero neXGam 47
The Legend of Heroes Trails from Zero neXGam 46
The Legend of Heroes Trails from Zero neXGam 45
The Legend of Heroes Trails from Zero neXGam 44
The Legend of Heroes Trails from Zero neXGam 43
The Legend of Heroes Trails from Zero neXGam 42
The Legend of Heroes Trails from Zero neXGam 41
The Legend of Heroes Trails from Zero neXGam 40
The Legend of Heroes Trails from Zero neXGam 4
The Legend of Heroes Trails from Zero neXGam 39
The Legend of Heroes Trails from Zero neXGam 38
The Legend of Heroes Trails from Zero neXGam 37
The Legend of Heroes Trails from Zero neXGam 36
The Legend of Heroes Trails from Zero neXGam 35
The Legend of Heroes Trails from Zero neXGam 34
The Legend of Heroes Trails from Zero neXGam 33
The Legend of Heroes Trails from Zero neXGam 32
The Legend of Heroes Trails from Zero neXGam 31
The Legend of Heroes Trails from Zero neXGam 30
The Legend of Heroes Trails from Zero neXGam 3
The Legend of Heroes Trails from Zero neXGam 29
The Legend of Heroes Trails from Zero neXGam 28
The Legend of Heroes Trails from Zero neXGam 27
The Legend of Heroes Trails from Zero neXGam 26
The Legend of Heroes Trails from Zero neXGam 25
The Legend of Heroes Trails from Zero neXGam 24
The Legend of Heroes Trails from Zero neXGam 23
The Legend of Heroes Trails from Zero neXGam 22
The Legend of Heroes Trails from Zero neXGam 21
The Legend of Heroes Trails from Zero neXGam 20
The Legend of Heroes Trails from Zero neXGam 2
The Legend of Heroes Trails from Zero neXGam 19
The Legend of Heroes Trails from Zero neXGam 18
The Legend of Heroes Trails from Zero neXGam 173
The Legend of Heroes Trails from Zero neXGam 172
The Legend of Heroes Trails from Zero neXGam 171
The Legend of Heroes Trails from Zero neXGam 170
The Legend of Heroes Trails from Zero neXGam 17
The Legend of Heroes Trails from Zero neXGam 169
The Legend of Heroes Trails from Zero neXGam 168
The Legend of Heroes Trails from Zero neXGam 167
The Legend of Heroes Trails from Zero neXGam 166
The Legend of Heroes Trails from Zero neXGam 165
The Legend of Heroes Trails from Zero neXGam 164
The Legend of Heroes Trails from Zero neXGam 163
The Legend of Heroes Trails from Zero neXGam 162
The Legend of Heroes Trails from Zero neXGam 161
The Legend of Heroes Trails from Zero neXGam 160
The Legend of Heroes Trails from Zero neXGam 16
The Legend of Heroes Trails from Zero neXGam 159
The Legend of Heroes Trails from Zero neXGam 158
The Legend of Heroes Trails from Zero neXGam 157
The Legend of Heroes Trails from Zero neXGam 156
The Legend of Heroes Trails from Zero neXGam 155
The Legend of Heroes Trails from Zero neXGam 154
The Legend of Heroes Trails from Zero neXGam 153
The Legend of Heroes Trails from Zero neXGam 152
The Legend of Heroes Trails from Zero neXGam 151
The Legend of Heroes Trails from Zero neXGam 150
The Legend of Heroes Trails from Zero neXGam 15
The Legend of Heroes Trails from Zero neXGam 149
The Legend of Heroes Trails from Zero neXGam 148
The Legend of Heroes Trails from Zero neXGam 147
The Legend of Heroes Trails from Zero neXGam 146
The Legend of Heroes Trails from Zero neXGam 145
The Legend of Heroes Trails from Zero neXGam 144
The Legend of Heroes Trails from Zero neXGam 143
The Legend of Heroes Trails from Zero neXGam 142
The Legend of Heroes Trails from Zero neXGam 141
The Legend of Heroes Trails from Zero neXGam 140
The Legend of Heroes Trails from Zero neXGam 14
The Legend of Heroes Trails from Zero neXGam 139
The Legend of Heroes Trails from Zero neXGam 138
The Legend of Heroes Trails from Zero neXGam 137
The Legend of Heroes Trails from Zero neXGam 136
The Legend of Heroes Trails from Zero neXGam 135
The Legend of Heroes Trails from Zero neXGam 134
The Legend of Heroes Trails from Zero neXGam 133
The Legend of Heroes Trails from Zero neXGam 132
The Legend of Heroes Trails from Zero neXGam 131
The Legend of Heroes Trails from Zero neXGam 130
The Legend of Heroes Trails from Zero neXGam 13
The Legend of Heroes Trails from Zero neXGam 129
The Legend of Heroes Trails from Zero neXGam 128
The Legend of Heroes Trails from Zero neXGam 127
The Legend of Heroes Trails from Zero neXGam 126
The Legend of Heroes Trails from Zero neXGam 125
The Legend of Heroes Trails from Zero neXGam 124
The Legend of Heroes Trails from Zero neXGam 123
The Legend of Heroes Trails from Zero neXGam 122
The Legend of Heroes Trails from Zero neXGam 121
The Legend of Heroes Trails from Zero neXGam 120
The Legend of Heroes Trails from Zero neXGam 12
The Legend of Heroes Trails from Zero neXGam 119
The Legend of Heroes Trails from Zero neXGam 118
The Legend of Heroes Trails from Zero neXGam 117
The Legend of Heroes Trails from Zero neXGam 116
The Legend of Heroes Trails from Zero neXGam 115
The Legend of Heroes Trails from Zero neXGam 114
The Legend of Heroes Trails from Zero neXGam 113
The Legend of Heroes Trails from Zero neXGam 112
The Legend of Heroes Trails from Zero neXGam 111
The Legend of Heroes Trails from Zero neXGam 110
The Legend of Heroes Trails from Zero neXGam 11
The Legend of Heroes Trails from Zero neXGam 109
The Legend of Heroes Trails from Zero neXGam 108
The Legend of Heroes Trails from Zero neXGam 107
The Legend of Heroes Trails from Zero neXGam 106
The Legend of Heroes Trails from Zero neXGam 105
The Legend of Heroes Trails from Zero neXGam 104
The Legend of Heroes Trails from Zero neXGam 103
The Legend of Heroes Trails from Zero neXGam 102
The Legend of Heroes Trails from Zero neXGam 101
The Legend of Heroes Trails from Zero neXGam 100
The Legend of Heroes Trails from Zero neXGam 10
The Legend of Heroes Trails from Zero neXGam 1